---
World Labyrinth Day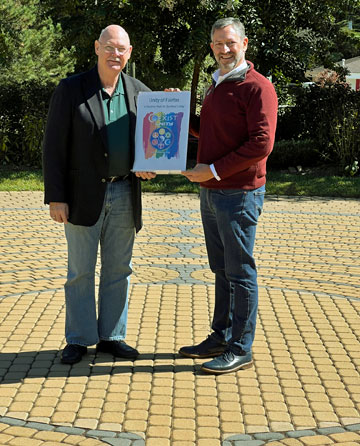 Randy Fillmore is co-founder of World Labyrinth Day. (He's not related to Charles and Myrtle Fillmore.)
Randy serves as Director of Operations at Unity of Melbourne, FL.
---
Walk the Outdoor Labyrinth
Across time and across cultures, human beings have found great spiritual value in walking a labyrinth.  It is a spiritual practice that seems to be embedded in the consciousness of humanity. There is a holy calling to take a symbolic walk to one's center and receive the gifts given there.
For many years, on New Year's Day for example, a canvas labyrinth has been laid out in our Sanctuary. Members and friends of Unity of Fairfax have found great inspiration, solace, and clarity when walking the canvas labyrinth.
The new permanent, outdoor labyrinth is now open 24 hours a day. We will welcome everyone, from Northern Virginia neighbors and the world, regardless of faith tradition, to engage in this deep archetypal practice and to experience the sacred power of walking a labyrinth.
The new labyrinth also serves as a beautiful and inspirational reminder that although each person's journey through life is private, ultimately we walk together in a spirit of oneness.
Rev. Russell Heiland
---
How to Walk the Labyrinth
Here is a useful resource for learning how to use a labyrinth: https://www.peacelabyrinth.org/how-to-walk-the-labyrinth
Labyrinth History
The Labyrinth Plaza garden was designed by Rick Hartley, one of our Earthcare founders.
The Labyrinth Plaza History page and Photo Album tell the story of the vision, construction, power of prayer and beautification of Labyrinth Plaza.